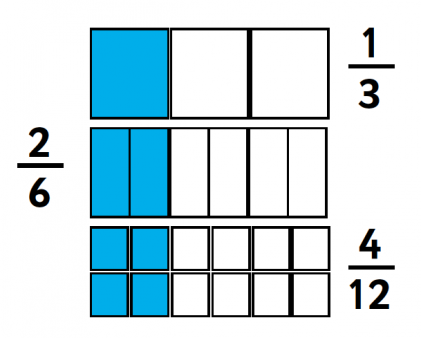 Use the Fraction Wall find, draw and write as many equivalent fractions as you can.  (Teacher will model how to draw 2 Fraction Bars under each other, the same length, showing the equivalent region by shading, labelling on the fraction bar.) 
Solving and proving solutions using models and processes for Equivalent Fractions:
Your family ordered two pizzas.  They ate 2/3 of the Cheese pizza and 2/6 of the Pineapple pizza.  Now mum wants to put all of the leftovers into the one box, will they fit?  Show a diagram to prove this and also show the fractions you are using.
Reasoning using knowledge of equivalence:
For Grandpa's 70th birthday you buy a big chocolate cake and a big vanilla cake to have enough for the whole family.  You cut the cakes into 12ths.  Three quarters of the chocolate cake is eaten and two- thirds of the vanilla cake is eaten.  Altogether, what fraction of a cake is leftover?